The OREGON COAST PHOTOGRAPHERS' ASSOCIATION's Official Club Publication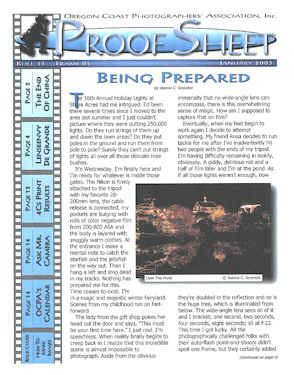 Recipient of an Honorable Mention in the Photographic Society of America's International Bulletin Competition for 2002.
Back issues are available for download in Adobe Acrobat (.pdf) version on our Yahoo! Group site: http://groups.yahoo.com/group/oregoncoastphotography2/ then go to "Files".
---
When you want to return to OCPA's Website Opening Page,
just close this browser window
---
If you have reached this page using a search engine, you may not be seeing the entire thing as this site uses frames. Click here to reset the page.
| Website Reset |
| Contact OCPA |
---
This website is published by the OREGON COAST PHOTOGRAPHERS' ASSOCIATION, Inc. All articles, features, images and other material posted within do not necessarily reflect the views of OCPA's Board of Directors, officers, membership, associated organizations or editors of this publication. Any/all brand, product or business names listed are copyrighted, trademarked and/or registered and are not necessarily endorsed by OCPA.
Reprinting / reposting of any article or web page, in whole or in part, from this site may be used in non-commercial photography club newsletters or web sites as long as the item is not specifically copyrighted and credit is given to the author and this web site as the source of the information. Any other type of reproduction may be done with specifically written permission only.
Inquiries about this publication may be made by directing them to the webmaster, c/o Oregon Coast Photographers' Association, Inc., P.O. Box 5646, Charleston, OR 97420 or ocpa@hotmail.com.
Copyright © 2003 OREGON COAST PHOTOGRAPHERS' ASSOCIATION, Inc. All rights reserved.
Version: 2.0
Revised: February 02, 2003